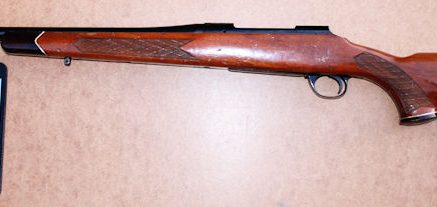 31, January 2020
BSA 308 Barrelled Action And Stock Only No Bolt
Breaking / stripping for spares. Unfortunately the previous owner lost the bolt!
The stock is admittedly a bit 'bashed and battered' with a couple of deep dents / chips. As always the original varnish finish on rifles never seems to last that long. This might benefit from stripping down, a little work and a refinish but for anyone with a broken stock to replace this offers a great starting point.
Other parts available at the time of listing are the original BSA butt / recoil pad, the hinged magazine floor plate and trigger guard, magazine follower and spring as well as a full trigger mechanism and the main action screws. Prices will be similar to John Knibbs and / or T. W. Chambers.
£ POA PRICE ON APPLICATION